Blazing neon lights 24/7, the world's most grandiose fountains, gridlock on Las Vegas Boulevard, frigid indoor air over millions of square feet when it's a hundred and ten outside ... not exactly a poster boy for sustainability. Name the top ten green cities in America -- I'll bet Las Vegas would not make your shortlist.
Well, think again. After meeting with officials from the City of Las Vegas to learn more about their green initiatives for our Sierra Club Green Home Web site, I must conclude that America's adult playground is making a sincere effort to embrace sustainability. And the major casinos have actually been pioneers in energy saving techniques – with the power and water bills they generate, it makes economic as well as altruistic sense for them. "What Happens In Vegas Stays In Vegas" but it might be beneficial for the casinos to get the word out about their green initiatives.
Sometimes controversial, always quotable and often progressive, Las Vegas Mayor Oscar Goodman is somewhat of a legend on the local and national scene. Under his stewardship, Las Vegas began to embrace green environmental policies before it became de rigeur. Goodman was one of the first to sign the Mayors Climate Protection Agreement, a pledge to green their city which now has over 1,000 mayoral signatures. Currently, Las Vegas has one of America's toughest consumer watering policies. "Water cops" can fine you if they see runoff on your sidewalks. Outdoor fountains at residential developments have come to a grinding halt. Vegas was also an early adopter of hybrid fleet vehicles and even embarked on a recycled anti-freeze program in 2007 to help power the city fleet. They also have a green building program, which rewards developers with tax breaks for building energy efficient structures...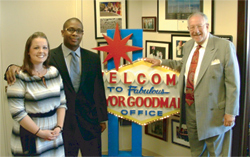 To continue this article go to
http://www.huffingtonpost.com/jennifer-schwab/what-happens-in-vegas-sta_b_326024.html